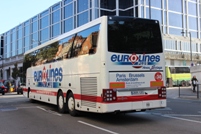 National Express Group's Eurolines has announced increasing passenger numbers across its network, with services to Brussels seeing record passenger numbers, up over 50% year-on-year compared to 2011.
Originally launched as a seasonal summer service, popular demand has seen Eurolines develop a yearround Brussels service, more than doubling the number of coaches on the network. Services now operate from London Victoria up to seven days a week during peak summer season.
Passenger numbers to Paris and Amsterdam are also up, with an extra 10,000 people choosing Eurolines to get to these destinations compared to 2011.
Eurolines Europe President John Gilbert said: "There is a huge appetite for affordable travel to the continent as the numbers taking advantage of our services show. In particular, our increased frequency Brussels service has proved phenomenally popular. We are looking forward to building on our success in 2013 and people should watch this space for a new menu of services to choose from."