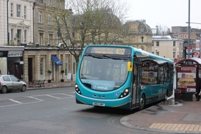 Arriva Southern Counties has added an 11.5m Wrightbus StreetLite Max to its fleet for longterm evaluation for use initially at its Tunbridge Wells, Kent, depot.
The 45-seater bus is powered by a four-cylinder Cummins 207PS ISBe5 engine coupled to a Voith D854.5E four-speed automatic gearbox and has entered service on the hourly route 402 which runs from Tunbridge Wells (TW) through Tonbridge and Sevenoaks to Bromley in the TfL area. It is running alongside a fleet of Optare Versas bought for the service towards the end of 2011.
The firm already runs StreetLite DFs, the first five 10.1m examples having entered use at Gillingham depot 12 months ago.
These were followed by five 10.8m versions last August for use at Northfleet depot on commercial service 477 from Dartford to Orpington.
Arriva's Regional Publicity Manager, Richard Lewis, said: "As we already have experience of two versions of the shorter doorforward StreetLites in our region, the StreetLite Max will make an interesting comparison with these and with other vehicles in our fleet.
"We also have on loan and waiting entry into service a TfLspec 10.2m two-door 29-seater StreetLite DF which will be used at our Dartford depot on TfL route 428 between Erith and Bluewater."
After its period at TW, the bus will move to Northfleet for use on high-frequency routes 480 and 490 linking Gravesend, Northfleet, Bluewater and Dartford, where it will run alongside Wright Pulsar bodied-VDL Bus SB200s.