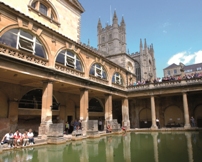 The Roman Baths in Bath are a great display of historical interest. Built in the second century CE, they were not discovered and explored until the late nineteenth century.
The baths extend under the modern ground level beneath adjacent streets and squares. Only a quarter is visible from the terrace as visitors first enter the baths.
The Sacred Spring is the heart of the site, where hot water at 46C rises at a rate of 1,170,000 litres per day. The natural phenomenon was beyond human understanding when the Romans discovered it and built a temple there dedicated to the goddess Sulis Minerva, a deity with healing powers.
Group prices are £9.30 adult and £6.25 child for groups of 20 or more. Personal guides are available for special tours of up to 25 people at extra charge. Advance booking is essential and arrival within an hour of allotted time will result in a 50p discount per person. The group organiser and coach driver may enter free of charge. Prior arrangements are required for tour operators. Prices may change from April 1, 2012.
Combined tickets with the nearby Fashion Museum cost £10.50 adult and £6.75 child.
Contact: [email protected]