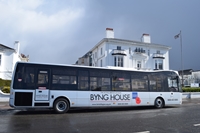 The Royal British Legion launched its new Optare Metrocity.
The new vehicle is expected to be used primarily for a regular shopping trip and excursion service from the Byng House Poppy Break Centre in Southport.
The Royal British Legion provides lifelong support for the Armed Forces community; serving men and women, veterans, and their families. The Legion offers breaks for ex-Service and serving personnel and their families at its Break Centres located in prime locations around the country.
The Cummins Euro 5, 11.5m Metrocity, with Allison 2100 transmission, also features removable seats to provide the flexibility for up to two wheelchair bays. It is also specified with full saloon air conditioning.
Sarah Curry, Business Manager at Byng House, said, "We have previously operated an Optare Solo which has been very reliable and proved extremely versatile.
"The Metrocity's capacity and the flexibility of two wheelchair bays really attracted us to this product."
Chris Hunt, Regional Sales Manager for Optare, said: "Optare is proud that the Royal British Legion has chosen another Optare product to operate regular shopping trips and excursions from Byng House, Poppy Break Centre."