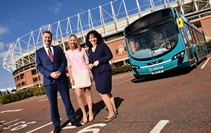 Operator invests £500k in local cause providing education, training and sports facilities for disadvantaged people
Arriva is making a push to help with unemployment in Sunderland by investing £500,000 into the Foundation of Light's Beacon of Light project.
When built, the Beacon of Light will provide an education, training and sports facility to help people in Sunderland acquire the key skills and qualifications needed to improve their employment opportunities.
Martin Hibbert, Arriva's Chief Financial Officer, said: "We are really excited and enthused by the concept of the Beacon of Light.
"We feel that, as a company 'born' in Sunderland, this is the perfect permanent legacy for Arriva to give something more back to the area.
"Arriva is passionate about developing skills in the local economy and making the North East a better place in which to live and work. The Beacon is a platform to provide more opportunities for people to learn those skills and find fresh employment opportunities.
"It's a project that will give people the chance to thrive and open up new experiences and is one of the most forward-thinking business and community schemes in the region."
Arriva has historic roots in the North East and supports many community initiatives while helping local people and businesses.
Martin added: "The opportunity to get involved with the project was an easy decision. Arriva is an important local jobs provider with lots of expertise so we are determined to contribute as much as possible."
Foundation of Light Chief Executive, Lesley Spuhler OBE, said: "The Beacon of Light exemplifies the Foundation's ground-breaking approach to changing lives and Arriva's backing for the development of the World of Work is immensely important to the project.
"Arriva has supported the Foundation for many years so we are delighted they have chosen to further strengthen their partnership with us and to help more people acquire vital skills, qualifications and ultimately employment.
"The Beacon will fuse together the world of work, education, sport and health and well-being like no other place in the UK but it would not be possible without the support of forward thinking companies like Arriva."