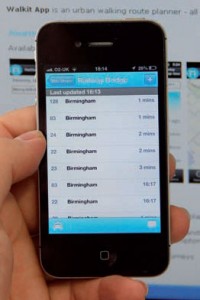 West Midlands PTE Centro has developed a smartphone app where passengers can receive live updates from more than 75% of the authorities' buses.
The app, which has had more than 20,000 downloads, now displays RTI updates from all 1,687 of the region's National Express buses.
Centro Vice Chair Cllr Kath Hartley said: "We have worked closely with National Express to ensure that our app provides as much up to date information as possible and helps to meet the demands of the modern commuter.
"Knowing when your bus will arrive and being up to date on any delays can help you plan your journeys much more effectively and we are working with other operators to try and provide even more real time information in the future."
Earlier this year National Express, which operates 77% of the region's buses, unveiled a £1.6m AVL centre from which all services are monitored to help identify problems and cut response times. Centro contributed £500,000 to the scheme as part of its Smart Network, Smarter Choices project.
Peter Coates, MD of National Express West Midlands, said: "Our passengers tell us that knowing in real time when their bus is due to arrive at the stop is one of the best improvements we have made. This improvement is now coming to smartphones and customers will know when to leave the office, home or pub to get to their bus."
For more information visit: www.networkwestmidlands.com/apps