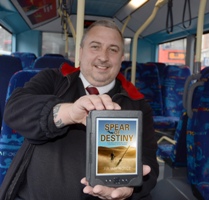 A driver for Wilts & Dorset, Julian Noyce, has completed his second novel. Following the success of his first book Tomb Of The Lost, which has now passed 18,000 sales through Amazon, Julian has announced his next book The Spear of Destiny, which was inspired by a documentary which covered the myth of the Roman soldier Longinus who used his spear to stab Christ at the crucifixion.
Believed to have divine powers, the Spear of Destiny has been sought as a possession throughout history, with both Napoleon and Adolf Hitler determined to be the holder. The spear was captured by US soldiers a few hours before Hitler committed suicide. It is thought one of the reasons why he invaded Austria was that he had seen the spear as a museum exhibit and believed that the holder would be undefeated in battle.
"I realised the Spear of Destiny offered the potential of a great novel and sequel to the first book," said Julian. "It's taken 18 months of research and writing and promises to appeal to my reader base."
Julian says he is encouraged by his colleagues and often wonders if his passengers could be reading one of his novels while travelling.
The Spear of Destiny is available for download from Amazon priced just 77p.