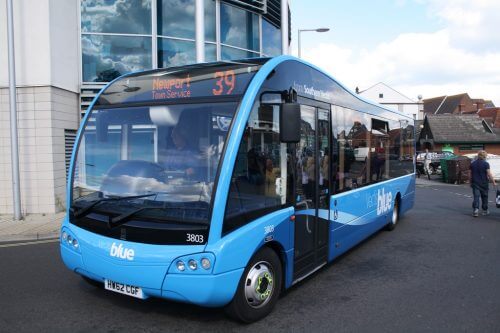 The latest Transport Focus bus passenger survey has been released, with satisfaction close to 90% across England, Scotland and Wales
Independent watchdog Transport Focus launched its eighth annual Bus Passenger Survey on Thursday, March 15.
Speaking to almost 48,000 bus passengers across Great Britain, in Autumn 2017 the watchdog found that:
• Overall passenger satisfaction was 88% in England, outside of London (89% in Scotland and 90% in Wales);
• As in 2016, 65% of passengers were satisfied that their trip provided value for money;
• 73% of passengers were satisfied with the punctuality of their service; and
• Once on the bus, 84% of passengers were satisfied with the journey time.
Transport Focus Director, David Sidebottom, said: "Despite all the great technical innovation out there, passengers are telling us that it's still the bus driver that can make or break their journey experience.
"We're pleased to see that some transport authorities and bus operators have worked together to act on the last few years' results, which showed declining satisfaction with journey times, to start to turn around performance."
The organisation noted that there were some significant improvements in passenger satisfaction with punctuality and timeliness of trips in cities like Manchester, though there were also some significant declines in towns such as Reading, as congestion and the 'growing pains' of town centre redevelopment slow traffic down.
Reactions
CPT
Confederation of Passenger Transport (CPT) Chief Executive, Simon Posner, said: "Passengers have once again given a ringing endorsement to their local bus services. The scope of this important annual survey is truly representative of the view of bus passengers – the people who really matter. An average satisfaction score of 88% is an extraordinary result and one many other industries can only aspire to achieve.
"These satisfaction levels are all the more remarkable given the continuing problems that operators face with road congestion. Buses need space on the road to deliver punctual and reliable services and operators are keen to engage with their local authority partners to address these issues. Operators are also continuing to invest in newer, cleaner vehicles and are meeting passenger aspirations and reflecting the way we now live our lives with, for example, contactless payment."
RMT
In reference to the value for money satisfaction results, Trade union RMT's General Secretary, Mick Cash, commented: "It is long overdue that this profiteering by the private bus companies is ended and local authorities are again allowed to own their own bus fleets and run their own bus services.
"The toxic combination of private profiteering, localised cuts and the uncontrolled growth of services like Uber is undermining bus services and condemning thousands to the misery of transport poverty. We need a wholesale change in policy that once again puts publicly owned and controlled bus services centre stage as part of a wider transport policy for Britain."
Go-Ahead Group
Martin Dean, Go-Ahead Group's Managing Director for Bus Development, said: "This is a true accolade from our customers. Our goal is to offer reliable, good value bus services which serve the needs of communities.
"60% of public transport journeys are by bus and it's a mode of transport that doesn't always get the attention it deserves. For customers to give us a record score at a time when bus services generally are under threat from growing congestion in our cities is a testament to the dedication of our staff."
Stagecoach
Managing Director for Stagecoach UK Bus in England and Wales, Mark Threapleton, said: "These independent results are a fantastic endorsement of the hard work of our employees across the UK in delivering better bus services, better customer service and industry-leading value for money.
"We know there is still more work for us to do, but we desperately need tougher action from local authorities to address the impact of car congestion. Congestion is damaging local air quality, slowing bus journey speeds, holding back our economy, and pushing up the cost of transport for local people. It is also undermining the gains in bus use that we have delivered through our continued investment in better bus services for local communities over many years."
FirstGroup
First UK Bus Managing Director, Giles Fearnley, commented: "These results confirm what we already know, that we need to continue our focus on improving customer experience, but it's pleasing to see that our value for money rating has increased, as well as achieving outstanding satisfaction results across some of our local businesses.
"This is the first year that First Cymru has been included within the results and it's pleasing to see that they have achieved exceptional results across the board. First York continues to score highly for overall satisfaction and value for money, while our Scotland East, Glasgow and Leicester businesses have seen significant increases in their satisfaction scores.
"Our customer-focused projects are ambitious and change will not take place overnight – it will take time for this to filter through the results of surveys like this. However, we're more confident than ever that we're on the right track and that we are focusing on the best ways to improve the customer experience going forwards."
Harrogate Bus Company
The Harrogate Bus Company CEO, Alex Hornby, reacted to the firm's 91% overall satisfaction: "These results are a massive vote of confidence for our hard-working team in Harrogate, who are delivering amazing bus services for our customers every single day.
"Most of all, these results reflect the pride and professionalism of our people, who are at the heart of everything we do. Their dedication to providing the highest quality service never ceases to amaze our customers – for example during February's severe weather, when our teams pulled out all the stops to keep our customers on the move."
Results
Local Authority Areas
Overall satisfaction: TOP: Bournemouth (94%), Northumberland (94%), Nottinghamshire (93%), South West Wales (93%), Tyne & Wear (93%). BOTTOM: Worcestershire (78%), Swindon (79%), Milton Keynes (83%), West Yorkshire (83%)
Value for Money Satisfaction: TOP: County Durham (73%), Bournemouth (72%), Greater Manchester (72%) BOTTOM: Essex (51%), South West Wales (52%), Worcestershire (52%), Cornwall (54%)
Satisfaction with punctuality: TOP: Mid Wales (85%), South West Wales (85%), Northumberland (83%), Nottinghamshire (83%) BOTTOM: Worcestershire (63%), Essex (68%), Milton Keynes (68%), Northamptonshire (68%)
Satisfaction with on-bus journey time: TOP: Northumberland (92%), Bournemouth (91%), Mersey & Halton (89%), Tyne & Wear (89%) BOTTOM: Swindon (77%), Cornwall (80%), West Midlands (80%), West Yorkshire (80%)
Operators
Overall satisfaction: TOP: Southern Vectis (96%), Go North East in Tyne & Wear (94%) Nottingham City Transport (94%), Stagecoach Nottinghamshire (94%), TrawsCymru in Mid Wales (94%), Trent Barton (94%) BOTTOM: Diamond Bus Worcestershire (72%), Swindon Bus Co. (78%), Stagecoach Swindon (79%),
Value for Money: TOP: Stagecoach in Mersey & Halton (78%), Oxford Bus Park & Ride services (75%), Stagecoach in Greater Manchester (75%) BOTTOM: Stagecoach East – Cambs Busway (42%), First Cymru in SW Wales (48%), First Aberdeen (48%)
Punctuality: TOP: Southern Vectis (90%), Konectbus & Anglian Buses (87%), TrawsCymru in Mid Wales (87%) BOTTOM: First in Worcestershire (61%), Diamond Bus in Worcestershire (62%), Diamond Bus in West Midlands (63%)
On-Bus Journey Time: TOP: Southern Vectis (96%), New Adventure Travel in SE Wales (93%), Konectbus & Anglian Buses (91%), Salisbury Reds (91%), Trent Barton (91%), Yellow Buses (91%) BOTTOM: Diamond Bus in Worcestershire (73%), Stagecoach in Swindon (73%), Arriva in West Yorkshire (77%), First in Cornwall (77%), Swindon's Bus Co. (77%)
National Operators
Overall satisfaction: Go-Ahead (91% – up 1%), Stagecoach (90% – up 4%), Arriva (87% – down 1%), National Express (85% – up 1%), First (84% – no change)
Value for Money: Stagecoach (68%), Arriva (65%), Go-Ahead (65%), First (63%), National Express (63%)
Punctuality: Go-Ahead (77%), Stagecoach (75%), Arriva (73%), National Express (70%), First (68%)
On-Bus Journey Time: Go-Ahead (86%), Arriva (85%), Stagecoach (85%), First (81%), National Express (79%)