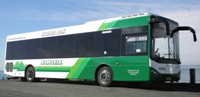 Australia New South Wales regional bus operator Sawtell Coaches has independently introduced new green technology into its bus services with two low-emission hybrids.
Sawtell Coaches has searched the globe to find the best viable solution. Various alternative drive systems were looked at. In Sawtell Coaches' opinion, gas buses were too dangerous; full electric buses had limited range and questionable green credentials depending on how the electricity was generated; hydrogen fuel cells remain experimental; flywheel drive systems are not yet widely available; and hybrid-drives, both series and parallel, remained as the best option.
This led sawtell to the BLK/ BCI parallel diesel-electric-hybrid- Cummins-Eaton drive system as its preferred option.
Sawtell says by installing a smaller diesel engine in parallel with an electric motor drive supported by batteries which are charged by the normal operation of the bus.
Sawtell closely followed a short 10 month trial in Sydney of one type of hybrid technology which it believes ended with little prospect of further trials but has revealed fuel savings between 4-15% from a series hybrid.
The company deduced the better advantage lay with parallel hybrids. Based on its own investigations, in normal operation Sawtell Coaches predicted dramatically better results of up to 30-40% fuel saving.
Additionally, there was found on the Sydney hybrid trial a possible $500-$2000 per year per bus savings to the health service due to reduced pollution directly attributed to bus emissions. Further savings (not measured) could be allocated as a result of the removal of cars/bikes from the roads, based on a 70k km per year average mileage. Sawtell Coaches cover 80k per year, average so the company expects to better the trial result.