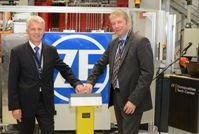 ZF has inaugurated the ZF Composites Tech Centre which is located in Schweinfurt.
Germany ZF plans to develop manufacturing processes for volume production of fibrereinforced plastics (FRP) components at a new 400 sq m. facility in Schweinfurt. All Group divisions will be able to use this knowledge, which is a prerequisite for the maturity of many lightweight design concepts for passenger cars and commercial vehicles which ZF has presented in recent years.
A press is the centerpiece of the ZF Composites Tech Centre. It is controlled by Corporate Research and Development in Friedrichshafen and can be used to produce components from duroplastic materials according to the RTM process (Resin Transfer Moulding). In Schweinfurt, ZF will also produce minor quantities of complex FRP parts suitable for prototypes. Since the beginning of 2012, ZF has invested a total of EUR 3.1mn in machines and buildings for the ZF Composites Tech Centre.
Dr. Ignacio Lobo Casanova is in charge of the ZF Composites Tech Centre, which will initially be run by four engineers. Apart from a press with a high-pressure injection unit for various resin hardener systems, further processing systems, including a robot and an infrared tempering furnace are available.
ZF believes the facility is wellequipped for tackling the three major upcoming tasks. Firstly, these include basic research, especially in terms of the different RTM processes and the tools used in these processes. "Part of our basic research work aims at making samples available from different material systems in order to determine the corresponding material characteristics. These again are stored as material models in a simulation process chain in order to be able to use simulations in the future to make product and process development leaner", said Dr. Ignacio Lobo Casanova.
Secondly, joining technology, in particular bonding methods, plays an important role, just like the automation of process steps by using gripper technologies. Thirdly, the ZF Composites Tech Centre will also be included in the further development of specific ZF lightweight design concepts such as suspension struts and knuckle as well as the wheelguiding transverse spring which feature very attractive lightweight potential for passenger car chassis: The lightweight knuckle only weighs half as much as its steel counterpart and the lightweight transverse spring saves up to 15% weight over the corresponding steel construction. A four-point link for truck chassis with potential savings of 25% compared to the current cast version is also on the agenda of ZF engineers.
Throughout ZF Group, roughly 30 development engineers are currently working on projects where FRP materials expertise is vital.
"One essential additional task of the ZF Composites Tech Center is the Group-wide transfer of knowledge as well as consultancy and qualification for all ZF divisions and other development locations," said Dr. Michael Heselhaus, project manager in charge of setting up the Tech Center. This transfer of expertise is not limited to lightweight and FRP specialists, though. Toolmakers are closely integrated into the activities of the Tech Centre to make sure the existing tooling expertise is enhanced in terms of FRP knowledge for massive and sheet materials as well as plastics injection moulding. TheTech Centre is organized as a branch of Corporate Research and Development in Friedrichshafen and part of Corporate Production.
There is sufficient space on the Schweinfurt site for expansion.