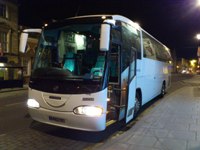 North Somerset Coaches has acquired a Scania Irizar coach from Princess Coaches in Southampton, with another to arrive imminently.
The 53-seat vehicle is LEZ Euro 4 compliant and has replaced a Plaxton Paramount.
David Fricker, managing director of the Nailsea-based operator, said: "It will be used for everything including school trips and excursions. It's a good upgrade to the fleet. We're moving away from Volvos; we've found the Scanias have passenger appeal.
"As it's LEZ it means we can take it to London – we don't do it often but it's always useful to have.
"It replaced an old Paramount which succumbed to old age. We also have a sister vehicle joining it this week."
The vehicle was greeted with praise after it was revealed on the company's Facebook page on March 16.