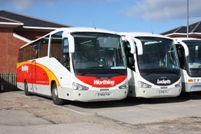 Coliseum Coaches will keep the same name, premises and staff
Lucketts Travel has signed a deal to take over Coliseum Coaches.
Ian Luckett, director of Lucketts Travel, had told CBW that the firm had entered negotiations to buy the shares in the Southampton-based company from brothers and joint owners David and Kerry Pitter, but on March 23 it was confirmed the deal had been finalised.
The firm had been put up for sale following the brothers' decision to retire. Coliseum Coaches wished to secure transfer to a reputable company and entered negotiations with Lucketts. The deal came into effect on Monday (March 26), and has resulted in Coliseum becoming a subsidiary of Lucketts, keeping its name and operating from the same premises. David Pitter's son Mark will stay on as general manager, reporting to the Lucketts board.
Ian Luckett told CBW: "There will be no change to the staff or the trading name. Coliseum is a great local business and we are looking forward to working with all the staff there and continuing the great work Kerry and David have done.
"We are confident that, with the experience Mark has gained in his 10 years with the firm, he will bring some of his own ideas to the business and keep it at the forefront of the industry".
David Luckett MBE, Lucketts Travel chairman, said: "There might not be much movement in the global mergers and acquisitions market at the moment, but the time was right for us to make our move. It's a good deal for both family firms. Coliseum runs a superb modern fleet and has a rich history in providing quality services. It's a perfect fit with our own business and expansion plans."
Both Coliseum and Lucketts are family-owned and together the two companies have 200 years combined experience in the coach travel business.
Coliseum Coaches is highly regarded in the Southampton area. Last year it had a turnover of £1.3m, a figure the new owners hope to build on. Lucketts Travel has predicted it can improve profits by 20% in the first year of ownership.
Lucketts Travel currently operates a modern fleet of 80 coaches on a variety of work.