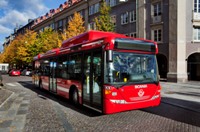 Scania is launching a low entry gas bus in the UK in conjunction with bodybuilder Alexander Dennis.
The new vehicle will be based on Scania's KUB chassis and feature its 270 horsepower EEV 9.3-litre, five-cylinder, energy efficient, lean burn gas engine, which offers high efficiency and low fuel consumption with no need for exhaust gas recirculation (EGR). Noise and vibration levels are also low and the engine can operate on either Compressed Natural Gas (CNG) or biogas. The unit is based on the same platform as Scania's modular-build 9.3-litre diesel engine, which limits the number of new components required for the low entry gas chassis to around 40 items.
The collaboration will see Alexander Dennis using an adapted Enviro300 43-seat, 12.2-metre body. The finished vehicle will be available via both Scania (Great Britain) and Alexander Dennis.
Scania said it is working with a gas infrastructure provider in order to be able to supply operators with a complete gas-powered system.