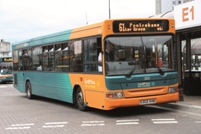 Potential service cuts and fare increases in Wales are looming as the Welsh BSOG cuts draw close.
As well as changing how the key subsidy is calculated, the Welsh Government is reducing overall funding by 25%. Concerns about the drop in funding have focused on rural areas, where most services depend on BSOG subsidy. However, urban networks may also be at risk because companies will no longer receive a grant based on how much diesel their vehicles consume. The replacement grant will be calculated according to bus mileage.
The Welsh Government said this ensured funding supports services which passengers want, rather than simply subsidising fuel.
Cardiff Bus is evaluating new fuel-efficient buses to replace some of its older vehicles.
It has also placed solar panels on one of its buses, to test whether this would cut operating costs. However, MD Cynthia Ogbonna warned that services were under review. "We have to look at our network provision and whether there's scope for consolidation without totally cutting off anybody," she said.
"The amount we're getting for BSOG rebate is reducing. We're particularly vulnerable as a city operator.
"Our mileage is quite low but our [fuel] consumption is very high because we operate in heavy traffic. If they're going to pay BSOG not on consumption but based on miles, it's going to be difficult for us."
There have been warnings that significant cuts to services or increases in fares could further reduce passenger numbers on Welsh buses, which saw a bigger decline last year than buses elsewhere in the UK.
The Welsh Government, which is funding a £4m Personalised Travel Planning scheme to inform people about alternatives to the car and contributing to improved urban bus infrastructure such as Swansea's new £10m bus station, predicted that its new funding system will result in better services.
"It is right that public money is used to support services which are attractive to passengers and not simply subsidise the fuel those services consume, as the current system does," said a spokeswoman.
"This is neither economically nor environmentally sustainable."
She said 2013-14 would be a transitional year, when councils' regional transport consortia will monitor the impacts of the new funding system in urban and rural areas.
By Easter, the Welsh Government intended to authorise councils to punish misuse of bus lanes.
"These additional powers will enable local authorities to assist bus operators by reducing traffic congestion, easing traffic flows and thereby reducing costs," she said.
Matt Hemsley, Sustrans Cymru's policy adviser, said the funding situation highlighted the need for more investment in bus lanes and bus gates.
"It would keep the services flowing, with less impact on the amount of fuel that's used," he said.
Council officers fear the reduced funding in place of BSOG for commercial services will put further strain on council resources. Commercial services cover most urban bus routes, including about 90% of Cardiff Bus' network.
Residents would expect councils to compensate for cuts to commercial services, which tend to cover the busiest routes, by paying operators to run replacement services under contract. However, councils' own funding is also reducing, meaning they could strip out some bus journeys which are currently subsidised.