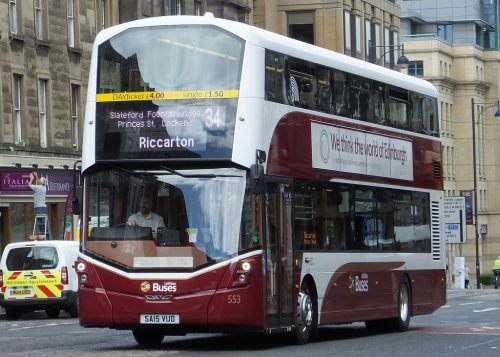 £1.4m is awarded to four operators, with Lothian Buses receiving the largest share towards 20 Wrightbus-bodied Volvo double-deckers
A further £1.4m has been awarded through the Scottish Green Bus Fund (SGBF).
Four companies have been successful in the seventh round of funding. The largest grant of £1m was awarded to Lothian Buses, to put towards the purchase of 20 Wrightbus-bodied Volvo B5LH double-deckers. First Glasgow was also awarded £131,250 towards 25 Alexander Dennis Ltd (ADL) Envrio400MMC double-deckers.
Two firms were awarded funding towards single electric Optare buses. These are Deveron Coaches, who received £133,600, and Hitrans, which was awarded £127,006.
Transport Minister Humza Yousaf announced the details of this latest round of funding for public bus services during a visit to Lothian Buses in Edinburgh.
Mr Yousaf said: "I am delighted to announce that £1.4 million has been awarded in the latest round of the Scottish Green Bus Fund, to support the purchase of 47 new buses between four companies.
"Through seven rounds of the SGBF, the Scottish Government has awarded £16.2m, resulting in 362 new low carbon emission buses within the Scottish fleet.
"This is all part of our commitment to reduce carbon emissions in transport and improve air quality. We are committed to increasing the use of public transport in Scotland and to meeting our ambitious climate change target of reducing carbon emissions by 42% by 2020. It is incredibly encouraging to see the steps that are being taken by the industry to get more Euro 6 engine and electric vehicles on to the road. I hope that many more bus operators continue to take advantage of similar funding in the future, so that companies and communities can both benefit from modern low emission vehicles."