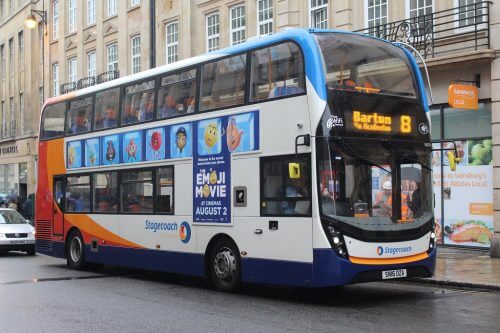 Stagecoach Group plc has provided a trading update for the 16 weeks ended on August 19, 2017.
Regional UK Bus operations saw a 0.4% fall in revenue, while in London, revenues fell by 0.1%. However, the group's rail division fared much better, with a 3.8% revenue increase from UK rail and a 4.4% increase from Virgin Rail Group.
In North America, revenue was up by 0.8% for the four months ended August 31.
A Stagecoach spokesman said: "We have implemented targeted mileage reductions and selective fare rises in our UK Bus (regional operations) division, as we make changes to our services that we consider will support the long-term success of the business. The effects of these actions on our core local bus businesses has been broadly as we expected, with revenue per mile up 2.8% year-on-year and the fare rises contributing to increased yield per journey.
"In addition, our costs remain well controlled. In light of these factors, and notwithstanding lower than expected demand in recent months for our longer distance inter-city coach services, our expectation of the Division's operating profit for the year is unchanged."
On the London market, the spokesman added: "The division has experienced a small net reduction in contracts with Transport for London. We continue to anticipate an increase in the rate of revenue decline later on in the year, reflecting the timing of contracts expiring.
"We are satisfied with the overall outcome from our bids for new contracts so far this financial year and we believe our strategy of bidding prudently is the right one for the long-term sustainability of the business."