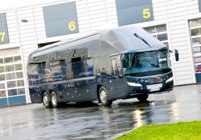 Ellisons Travel MD describes Starliner as "ideal product"
The seventh Neoplan Starliner to enter the Ellisons Travel fleet has been signed up by Tottenham Hotspur Football Club to handle its first team travel. The club's players, manager and physiotherapy teams all put their ideas forward on the style of coach travel they would like to enjoy for their away games and the new Starliner is Ellisons' response to those challenges.
Ellisons' MD Andy Magowan said: "The Starliner is the ideal product for our customer base. This one was very well received by the Tottenham team and its management when we unveiled it this week. It's no surprise every one of our other Starliners is also working with a Premier League club."
The operator already has an eighth Starliner on order, but, as Andy noted: "The trouble is every time we get a spare, someone sees it and wants to contract it from us. Everyone loves the sense of interior space and feeling of airiness – and let's face it, in any coach park the very first vehicle to take the eye is a Starliner. It's just that sort of coach.
"There's no doubt we are having to work harder at chasing business but there's plenty out there if you can offer the right value for money. Having the right vehicles certainly helps with that." The soon-to-be eight Starliners are accompanied in the Ellisons' fleet by 10 sister vehicles, in the shape of Neoplan Tourliners.
Local support is obviously another key to successful operation. Andy said: "We lost our local testing station so now our entire fleet is reliant on the MAN customer support branch at Manchester. They have done a good job at getting through the learning curve quickly and enthusiastically.
"They fully appreciate the value of each vehicle and, in the case of our Starliners, each one is different and is dedicated to a Premier League club: and each one has to be operational all the time. We even have one driver who is not currently allowed to remove his Movember moustache or get his hair cut, as the team he drives for has a growing superstition it is bringing them luck. That's the level of importance attached by some of these teams to having their 'own' coach for their travels. We can't just turn up with another coach without an unanswerable reason for it, so our focus all the time with the support team at MAN Manchester is very much on preventive maintenance."