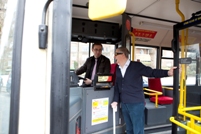 Norman Baker takes part in first RNIB event at Reading bus station which puts bus drivers in the shoes of passengers with visual impairments
Norman Baker, along with bus drivers and managers from Reading Transport and a group of blind and partially sighted people, has taken part in the first ever Royal National Institute for the Blind (RNIB) 'Swap with Me' event on December 11 at Reading bus station.
Reading bus drivers swapped places with visually impaired passengers to experience the different pressures and barriers each face when using buses in a busy town.
Norman Baker has given full backing to the RNIB bus campaign: Stop for me, Speak to me. The campaign is calling on bus operators to remove the barriers blind and partially sighted people face when making a bus journey, such as trying to flag down, board and get off a bus at the right stop.
Similar Swap with Me events are planned across the country. The aim is to prompt operators to take on board the campaign's key asks.
Hugh Huddy, RNIB Campaigns Officer for Inclusive Society, said: "Catching a bus should not be a sight test. Local bus travel is a lifeline, providing an important means of transport within the community for those who are not able to drive.
"Buses are often the only affordable way for people with sight loss to travel independently to work, appointments or to visit friends and family. However, the difficulties they face in making journeys, which other people often take for granted, are unacceptable and often unnecessary. We welcome the Transport Minister Norman Baker's support for our campaign to encourage bus operators to remember one simple principle: Stop for me, Speak to me."
David Cowdrey, Head of Campaigns at Guide Dogs for the Blind, commented: "We fully support what RNIB is doing. It ties in well with our 'top tips for bus drivers' initiative, where we have been advising drivers to stop for passengers to ask them if it is the bus they need and ensure passengers with sight loss are seated before leaving the stop.
"New legislation is coming in on March 1, 2013, requiring bus operators to carry on board passenger information. Our own Talking Buses campaign is an ideal way to address this – by providing audio-visual systems on buses, you're not only providing for passengers with sight loss or who are hard of hearing, but also ticking this legislative box and removing the anxiety from regular passengers who are not familiar with the service.
"AV doesn't have to be expensive and hi-tech, it can be simply a sign with route information and a driver trained to give next stop announcements with an on board microphone. We can offer free training to keep costs down even further."