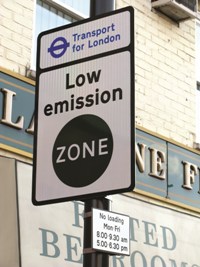 Vehicle owners and operators urged to take action to clean up vehicles
The operators of some 75,000 HGVs, buses and coaches and 72,000 larger vans and minibuses will have to take action to meet tougher standards. Transport for London (TfL) is calling on the owners and operators of the most individually polluting vehicles to take action now to avoid fines when new vehicle emissions standards come in to effect in January 2012.
The London Low Emission Zone (LEZ), introduced in 2008, has delivered real improvements to air quality in London by encouraging the most individually polluting vehicles to clean up their emissions. It is the largest environmental zone in the world and operates 24 hours a day, every day of the year across most of the Greater London area.
The LEZ reduces the amount of particulate matter (PM) pollution – the very fine particles of soot which are emitted from exhaust pipes – preventing 28 tonnes of PM pollution from entering London's air in 2008 – equal to saving 127 million km driven by a Euro III lorry (the same as 160 return trips to the moon).
Poor air quality has a major impact on health, affecting people with asthma, chest and heart conditions. It's the poorest, the old, the very young and the sick who suffer most. In 2008 the GLA reported that poor air quality contributed to over 4,000 deaths in London. While there have been great improvements, London's air quality remains a concern and further action is needed to meet legally required air quality standards and avoid potential fines from the EU estimated at hundreds of millions of pounds.
That is why, from 3rd January 2012, the LEZ will be changing. Vehicles already affected by the LEZ will face tougher standards. Lorries (over 3.5t), buses and coaches (over 5t with more than 8 passenger seats), and other specialist heavy vehicles will be required to meet a Euro IV standard for particulate matter to drive within the LEZ without paying a daily charge. Lorries, buses and coaches registered as new on or after 1 October 2006 will already meet the LEZ standards from 2012. For the first time a LEZ standard will apply to larger vans and minibuses. Larger vans (1.205 – 3.5t), minibuses (under 5t with more than 8 passenger seats) and other specialist vehicles will have to meet a Euro 3 standard for particulate matter in order to drive within the LEZ without paying a daily charge. Vans and minibuses registered on or after 1 January 2002 will already meet the LEZ standards.
TfL estimates the changes to the LEZ will broadly double the impact of earlier phases in reducing harmful particulate matter pollution in the capital.
If your vehicle does not meet the new LEZ emission standards you have a number of options:
fitting an approved filter to existing vehicles. This can be the most cost effective solution particularly for operators with larger, heavier vehicles or anyone with a specially adapted or heavily customised vehicle.
re-organising a fleet so that only vehicles which meet the emissions standards are used within the zone.
replacing older vehicles with newer models which meet the relevant emissions standards. A newer second hand vehicle can be the most practical way forward for van owners. There are manufacturer discounts available for anyone considering a new van (see website for more detail)
renting a vehicle for short term or for very infrequent visits
converting vehicles to run on pure gas with a spark ignition
paying the daily charge, though TfL would prefer everyone to meet the air quality standards.
Anyone choosing to fit an approved filter or new gas engine must have their vehicle inspected every year by the Vehicle Operator Services Agency (VOSA). VOSA will issue an annual certificate to confirm that your vehicle meets the LEZ standards and pass this information on to TfL automatically. Some fitters also offer a certification service and so it is worth asking your supplier about this. It is important to fit only an approved filter, as otherwise you will not be able to obtain the correct certificate. See the website for more details (www.tfl.gov.uk/lezlondon). TfL would prefer everyone to take action to make sure their vehicles meet LEZ standards rather than pay a daily charge or risk a fine.
The message is to act quickly as it can take several months to make any necessary changes. If your vehicle does not meet the LEZ standards, you will have to pay a charge each day it is driven within the LEZ. A charging day runs from midnight to midnight. For lorries, buses and coaches the charge is £200 per day, with a penalty of £1000 per day if the charge is not paid (reduced to £500 if paid within 14 days) For larger vans, minibuses and other specialist light vehicles, the charge is £100 per day, with a penalty charge of £500 per day if the charge is not paid (reduced to £250 if paid within 14 days).
The Mayor recognises meeting LEZ requirements may mean additional costs for some operators, which is why he has already delayed the introduction of a LEZ standard for vans and minibuses by fifteen months to give people more time to prepare. The Mayor has also negotiated discounts on new vans and minibuses from several major vehicle manufacturers, and some filter manufacturers are also offering discounts. The Mayor and TfL want to make London a cleaner, greener, healthier city for everyone living and working in the Capital.
For more information on the LEZ, to check if a vehicle is affected, and to find out more about the available compliance options, call 0845 607 0009 or visit the LEZ website (www.tfl.gov.uk/lezlondon).