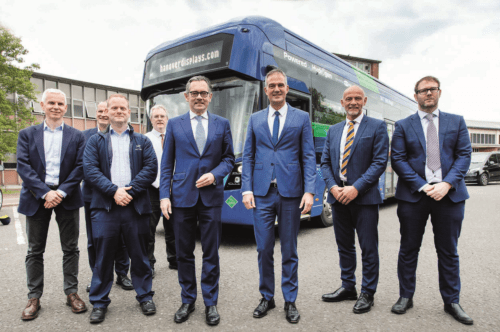 Wrightbus showcased its latest GB Kite Hydroliner offering to the Shadow Secretary of State for Northern Ireland during a factory visit to demonstrate its green credentials
Shadow Northern Ireland Secretary Peter Kyle visited Wrightbus to hear how the company is playing its part in the decarbonisation of public transport across the UK and Ireland recently. He was given the opportunity to tour the Ballymena factory and hear about the technologies used in delivering zero-emission buses, and also met with members of Wrightbus' senior management team including newly-appointed Chief Executive Jean-Marc Gales, a seasoned executive in the global automotive industry.
Peter is Labour MP for Hove, where later this year Brighton & Hove Buses will place 20 Wrightbus hydrogen vehicles in operation on its Metrobus Fastway route serving Crawley, Gatwick Airport and Horley. He commented: "Northern Ireland has huge potential to be at the forefront of the green transition and visiting Wrightbus's Ballymena factory was an electrifying experience.
"Companies like Wrightbus show the value of green jobs to the local and wider economy. Their hydrogen buses have already made the journey to Sussex and beyond. Labour has a mission to make the United Kingdom a clean energy superpower and create hundreds of thousands of quality jobs across the country."
Earlier this year, the manufacturer announced plans to develop a green hydrogen production facility at its factory in Ballymena. The proposal is being made in partnership with a sister company Hygen Energy, and the new facility would help create a reliable source of fuel for those buses and other hydrogen-powered vehicles.
Jean-Marc said: "We were delighted to be able to share with the shadow secretary our vision and plans for the business and what this means for Northern Ireland and the wider UK. Wrightbus has a clear plan in place to increase the ease and affordability of zero-emission buses.
"We know from our vast expertise and experience the significant part our technologies can play in the decarbonisation of public transport across the UK and Ireland. We are at the forefront of hydrogen and zero-emission technology and, as such, continue to explore and invest in new opportunities to develop this sector."