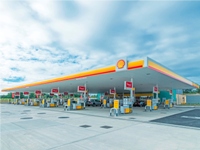 New research by Shell suggests 76% of drivers are not selecting an economic fuel and are missing out on a range of other techniques for reducing fuel consumption.
The research, titled the Shell FuelSave Index, also revealed 55% of drivers are not driving smoothly and only 53% use the top gears frequently. Shell believes changing these habits and following other tips, as well as choosing the right fuel, fleet drivers could reduce their fuel consumption.
As a result Shell has launched Target One Million, a Shell FuelSave campaign designed to help a million drivers learn how to save fuel and reduce fuel costs. The site includes a series of interactive mini-games to help equip fleet drivers with the skills to become more fuel efficient.
TV presenter Quentin Wilson, who collaborated with Shell to launch the initiative, said: "Programmes like Target One Million are the latest step in our commitment, demonstrating that by using these fuels and making a few simple changes to habits, it's easy to make a difference to the amount of fuel your firm uses."
Shell has also promoted 10 fuelsaving tips and '10 Golden Rules for Efficient Drivers'; a set of guidance which aim to help fleet and truck drivers cut their fuel consumption.
Visit www.shell.co.uk