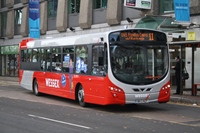 Rotala has announced a trading update for the year ended November 30, 2015, along with prospects for the current year ending November 30, 2016.
The group said that pre-tax profits on a slightly reduced level of turnover and before exceptional items were broadly in line with management expectations.
During the year ended November 30, 2015 the Company made two acquisitions, Green Triangle Buses Limited and the Wings Luxury Travel business. Shortly after the year end the Heathrow business of OFJ Connections Limited was acquired for £1.3m. Rotala said the acquisitions have considerably strengthened its business offering in the North West and in the Heathrow area.
The group's net debt, which at November 30, 2014 stood at £18.4m, rose to £22.7m as at November 30, 2015, due to the acquisitions made in the year, investment in freehold property and the programme of share buy backs for holding in treasury. Shortly after the year end, Rotala disposed of a depot surplus to requirements and significantly extended the size of another key depot in the West Midlands, with the net effect of reducing debt by £2.1m.
On fuel hedging, the group said it aimed to create certainty over fuel costs by hedging the total fuel requirement whenever it seems prudent to do so. The board therefore has continued to take out fuel hedges against the fuel requirements of the group, presently up to November 2018. Currently the annual fuel requirement of the group is about 11 million litres.
For 2016 the Company has in place hedges against about 90% of its fuel requirement for the year at an average price of about 101p a litre; 85% at 95p per litre for 2017 and 88% at 91p per litre for 2018.
In view of the government's recent changes to the taxation of dividends receivable by private individuals, the company intends to pay a second interim dividend in respect of 2015 on March 30, 2016 at a rate of 1.375 pence per share to all shareholders on the register on March 4, 2016. The board will not recommend a final dividend at the Annual General Meeting in May 2016.
The statement said: "Trading for the current year has begun in line with budget. Following the three acquisitions which have been made in the last 10 months, turnover in the current year should show a return to growth.
"This will not be at the expense of margins, which, given that the policy of the board is not to pursue low margin business for the sake of it, have shown a steady improvement over recent years."