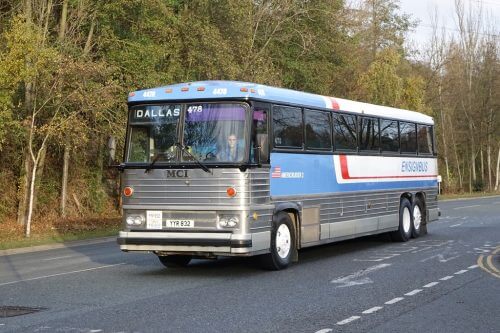 This year, visitors to Showbus on Sunday, September 17, 2017, at Donington Park, can gain entry to the event for a discounted rate if they show a valid bus ticket.
The event has made a big effort to incentivise bus travel, offering entry for £10 (a £5 discount) and ensuring a number of services are available.
BYD electric buses from Nottingham City Transport will link the site to East Midlands Parkway Station every 20 minutes, with links to trains and megabusplus coaches.
Trent Barton's skylink services serve Donington from Derby, Nottingham and Leicester, and it is offering all inclusive 'zigzag' tickets on the day. There are also excursions from the likes of Motts Travel, Dudleys Coaches and others to provide another option.
Visitors can also use the new Vamooz service to travel from Burnley, Manchester, Harrogate, Leeds and Sheffield with Transdev, or from Reading with Reading Buses.
Large numbers of Plaxton coaches and buses will be on display at Showbus this year, celebrating Plaxton's 110th anniversary. Ensignbus plans to bring along its MCI Greyhound coach as a special attraction. Another special attraction is a GM PD-4501 Scenicruiser from its new home in the Isle of Man Museum.
Showbus will also display no less than five of Nottingham's colourful new Alexander Dennis Enviro400 City-bodied Scania gas buses.