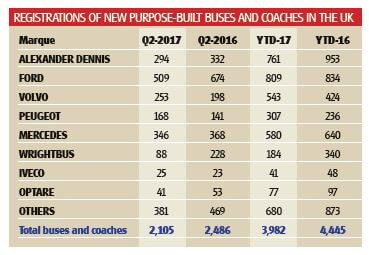 Registrations of new coaches and buses fell by 15.3% in the second quarter of 2017, according to figures released by the Society of Motor Manufacturers and Traders (SMMT).
A total of 2,105 units were registered in the period, with demand falling for the second time this year following five consecutive quarterly rises in registrations. This decline also follows a particularly strong Q2 in 2016, when the market grew by more than a quarter (26.9%) on the previous year.
Although double-deckers declined by more than a third (-36.9%), this follows four consecutive months of significant growth for the segment, while single-decks saw a moderate rise of 4.7%, with volumes in line with annual trends. Year-to-date figures showed a similar pattern, with overall registrations of coaches and buses down 10.4% and double-deck demand also down -6.1%.
Mike Hawes, SMMT Chief Executive, said: "Having experienced a sustained period of significant growth, it's natural to see the market level out to steadier levels. However, with buses so prevalent in our towns and cities, encouraging the uptake of the latest low emission Euro 6 diesels and hybrids, as well as zero emission electric buses, will be vital to improving local air quality."
Figures for the third quarter are expected on November 13.