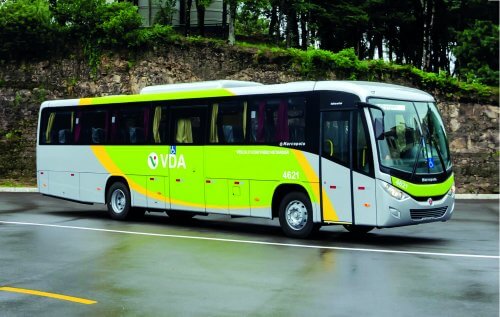 Based in the city of Amapá, operator Vale do Amazonas has invested in 75 new Marcopolo and Volare coaches for the mining sector. The operator said that while the overall road transport sector has registered a drop in sales volume due to the coronavirus pandemic, the charter sector is still booming in 2021. To meet the the company's needs, it invested in a fleet of 75 new Marcopolo Ideale buses and Volare Attack 9 mini buses.
Ricardo Portolan, Director of Commercial Operations and Marketing at Marcopolo explained that the vehicles are destined for the mining segment, which is very strong in that region of the country, and will be used for transport in and around the mines. 45 of the new buses are air-conditioned Marcopolo Ideales, with a capacity of 48 passengers in executive seats, and with a wheelchair lift for total accessibility. The remaining 30 vehicles are Attack 9 Executive minibuses.
Vale do Amazonas has been a Marcopolo customer since 2007 and has over 60 years of experience in passenger transport. It operates a fleet of around 450 vehicles, and undertakes bus chartering, vehicle rentals and earthmoving, mining and forestry machinery rentals.