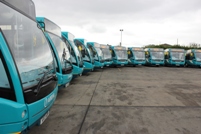 Arriva Southern Counties has invested £2m in 16 Optare Versas to upgrade one of its routes running between Shoeburyness, Southend and Rayleigh.
The latest 11.7-metre 13-plate buses, fitted with Cummins ISB E5 engines, cost £128,000 each and bring a new look and higher standards of comfort to the newlybranded Service 1 that also links Shoeburyness and Rayleigh to Southchurch, central Southend, Westcliff, Leigh-on-Sea and Hadleigh.
The prominent graphics for the ONE coupled with pictorial local designs on the rears of the buses will help draw attention to the service which runs up to every 12 minutes during the main part of the day on Mondays to Saturdays.
Some of the new buses also carry names such as 'Pride of Southend' and 'Pride of Hadleigh' to reflect the places they will be serving and the vehicles have replaced Plaxton Pointer-bodied Dennis Dart SLFs which will be disposed of.
Arriva has also decided to name one of the new vehicles after wellknown local restaurateur Tony Tomassi who passed away last August.
Mr Tomassi had run the Tomassi's restaurant business for many years and had developed it into what has become a Southend institution.
Arriva Southern Counties' Regional Publicity Manager, Richard Lewis, said: "We are delighted to name one of our buses in memory of Tony Tomassi as a fitting tribute to a local businessman who contributed to the success of Southend's local economy over a very long period."
Mrs June Tomassi said: "We would like to thank Arriva for this gesture which Tony would have much appreciated. His presence in Tomassi's Restaurant has been much missed by our many customers who came to know him as a friend as well as a business man."
The Versas were launched at a Civic event held at the company's Southend-on-Sea Depot on Friday April 19 and went into service the following day.
Following recent investments elsewhere in its region, Arriva Southern Counties now runs a fleet of 53 Versas.