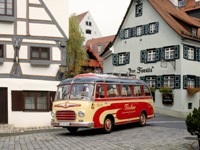 The coach with the world's first self-supporting frame was premiered in 1955
GERMANY Fifty years after production stopped, at this year's Retro Classics (March 7 – 10), Setra shone the spotlight on a coach model which featured largely in the success story of the long-standing brand from Ulm: the Setra S6. A total of five examples of the S6, the compact coach with the world's first self-supporting frame, were on show in Hall 8 of the Stuttgart Trade Fair. In addition to buses belonging to the firms Rast-Reisen, Schranner, Kronberger and Fischer, Daimler's Ulm-based bus brand also exhibited an S6 from the Setra classic collection in Neu-Ulm.
The third ever coach from Setra premiered at the Geneva Motor Show in 1955. The 6.7-metre-long and 2.25-metre-wide coach became the basis for all compact buses of the brand to follow. A total of 1172 examples of this model, which can still be admired at many classic vehicle events, were manufactured up until 1963. The features include four independent wheel mountings with double wishbones, which is unique to this day, rubber springs with telescopic shock absorbers and a steering column gear shift. A low centre of gravity and the ideal ratio between wheelbase, overhang and track width ensured stable road-holding at all times. The S6 was powered by a 517 D 4K Henschel four-cylinder diesel engine, the output of which was boosted in later years from the original 85 hp to 100 hp with the aid of a belt-driven compressor.
Retro Classics has become truly established as an international exhibition for classic vehicles, spare parts and restoration. Last year, 65,000 visitors flocked to the halls of the Stuttgart Trade Fair.