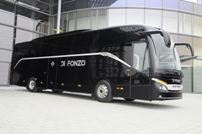 GERMANY The design of the new Setra ComfortClass 500, assessed by a jury of representatives from all over the world, prevailed against some tough competition to gain the Red Dot award for Product Design 2013.
Some 4,600 entries from 54 countries, in 19 different categories, were evaluated. The jury of 37 experts explained its choice of winner as follows: "The design of this touring coach is absolutely trendsetting. It conveys a sense of innovation, safety and comfort and thus meets in full the expectations passengers have of a modern touring coach." Professor Dr Peter Zec, the initiator of the competition, is quite certain of one thing: "Those creations passing critical review by the international Red Dot jury will never become submerged in the mass and will be sure to make their mark in the global competitive field.".
The Head of Design for Daimler Buses, Mathias Lenz, is delighted to find the positive reaction of customers to the innovative new model series is shared by respected design experts.
"The award is an acknowledgement of our daily efforts to make the design of our coaches a brand characteristic giving visual form to the values of the Setra brand within the coach industry, arousing emotions and meeting in full the high expectations of coach operators."
The design of the front end and of the redesigned exterior mirrors has been optimised in countless hours of testing in the wind tunnel. Thanks to these measures, together with the new aerodynamic rear end and further specific measures, the ComfortClass 500 achieves a drag coefficient of 0.33, a figure which would previously have been considered unattainable.
A Setra S515HD ComfortClass just delivered to Italian operator Di Fonzo is the second of its type to join the 60 Setras in the fleet. It is the 80th Setra bought by the firm, which was established in 1934.