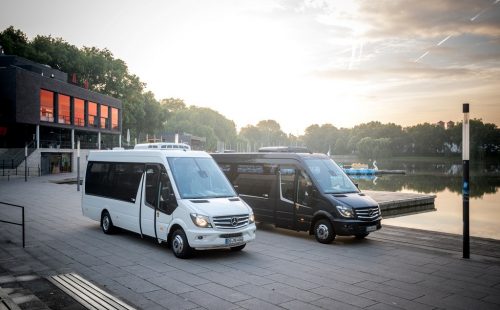 GERMANY The Sprinter Travel 65 has been the flagship of the Mercedes-Benz minibus range since 2007, says Daimler. The distinctive vehicle is celebrating its birthday with a 10 Year Edition limited to 50 units that feature an exclusive design and generous specification that also incorporates an enhanced aftersales package.
The current Mercedes-Benz minibus range based on what at that time was the latest generation of the Sprinter was launched in mid-2006. One year later, at Busworld Kortrijk, the Sprinter Travel 65 celebrated its European market premiere as the flagship. A 2013 comprehensive model upgrade included the move to Euro VI compliance plus the reorganisation of the passenger compartment.
At the top of Daimler's compact travel bus range, the comprehensive specification of the Mercedes-Benz Sprinter Travel included double-glazed side windows, separate air conditioning for driver and passengers, convector heating and the TSX seating familiar from large coaches. The generously sized, electrically operated outward swinging door and two-step access were designed to make it particularly accessible for passengers.
The 10 Year Edition is available in two versions. Exterior paintwork can be in tenorite grey metallic with side profile foliated accents that give a brushed aluminium look. The 'lumo' seat cushion design has orange piping and orange/grey leather headrests. Alternatively, exterior paintwork is diamond white metallic with side profile foliated accents to give a brushed steel look while the seat cushion design is 'mono' with light blue piping and dark blue leather headrests.
All versions of the limited edition minibus have a GVW of 5,500kg. The multifunction steering wheel is in leather while a Radio Audio 15 and Becker Map Pilot navigation system is specified, as is a reversing camera, start-up assistant, main beam assistant and Collision Prevention Assistant.