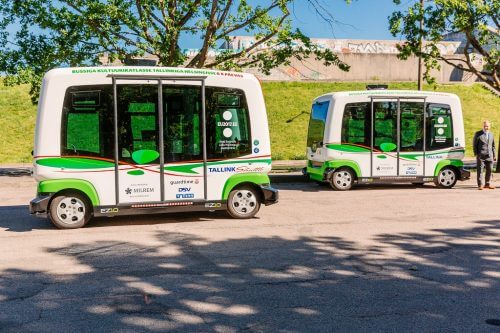 Autonomous shuttle buses operate in Estonian capital for the first time
ESTONIA Marking Estonia's Presidency of the Council of the European Union, two driverless electric Easysmile EZ10 shuttle buses have been operating in the capital, Tallinn, for the first time. They linked Mere Avenue and the Tallinn Creative Hub (Kultuurikatel) until the end of August.
Before taking passengers, the vehicles had to go through Estonian Road Administration checks that are required for all buses before they enter into service. A single shuttle carried up to eight passengers at a time and a presenter was onboard to explain the new, innovative technology.
According to Valdek Laur, an adviser on digital solutions for the Estonian Presidency, driverless vehicles are developing quickly. "The Estonian Presidency is a good chance to introduce novel solutions and encourage development centres, entrepreneurs and institutions to cooperate," he said. "The broad idea behind the project is to go through the entire process of introducing driverless vehicles, from permits and producer requirements to the response of people and presenting the new technology to the public."
Introducing driverless technology will be gradual according to Pirko Konsa, the head of the Estonian Government Office's group of experts on self-driving vehicles. "Driverless technology has great potential," Pirko added. "Driverless shuttles could be successfully used in low density areas to help people with restricted mobility." Commenting on the benefits of the technology, he highlighted safety. "90% of traffic accidents are caused by human error," he said. "Driverless technology is certainly a key solution in increasing road safety."
According to Johann Peetre, an executive director at the Transport Development and Investments Department of the Estonian Ministry of Economic Affairs and Communications, Estonia will aim to advance the digitalisation of transport and the adoption of new, smarter transport solutions.
"In Estonia we know that for predicting the future technological trends we have to create it ourselves," he said. "The Easymile driverless shuttle is the first visible step towards future solutions and hopefully they will be joined by other driverless vehicles, such as buses, cars and taxis in the cities as well as the country. We want Estonia to be among the first countries to embrace driverless technology."