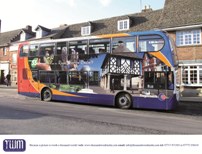 Half of advertising space used to honour town's military heritage
Stagecoach West has told passengers to look out for a specially branded Royal Wootton Bassett bus in operation on the route 55. The brand new ADL Enviro 400 depicts iconic images from in and round the town on the passenger door side while the other side of the vehicle has been donated to Help for Heroes due to the link between the town and the military.
Nathan Griffith-Williams, marketing manager for Stagecoach West, said: "This is the first of seven brand new buses which will be visible on route 55 in the New Year. These newly branded vehicles promote various locations and attractions along the route. However we decided to unveil the Royal Wootton Bassett bus early to commemorate the town gaining its 'Royal' title.
"We also wanted to do something to honour the town's role in the repatriation of fallen servicemen and women so have donated one side of the bus to the charity which supports those wounded, sick or injured in the line of duty."
Bryn Parry OBE, CEO and cofounder of Help for Heroes said: "H4H is all about 'doing your bit' and Stagecoach's pledge to support us with the branded Royal Wootton Bassett bus is just fantastic. We have no doubt the bus will be a great success and raise vital awareness. On behalf of everyone at H4H and all those who will benefit, I would like to say thank you."
The new bus was unveiled by Hero the Bear, the official Help for Heroes mascot, who was joined by Divene Anderson from Stagecoach West and Stewart Perry from the charity's events team.