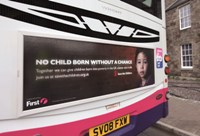 FirstGroup revealed it has donated £10,000 this Christmas to its national charity partner, Save the Children. This brings its total inkind support and cash donations to just over £4.5m since the partnership began in 2007.
Rather than sending traditional cards this year, First has posted a Christmas message on its website, including a reference to Save the Children. As a token of the savings made, First was able to donate an extra £10,000 to its charity partner.
Avril Gill, FirstGroup's marketing manager, said: "I'm thrilled our £10k donation breaks the £4.5m mark and hope it helps bring some much needed joy to the children in the UK who need it most this Christmas.
"Announcing the partnership with Save the Children some five years ago, we could never have envisaged it being so successful. Our staff across the UK have embraced the partnership with incredible enthusiasm and have taken part in all sorts of challenges and sporting events to raise money for Save the Children."
Douglas Rouse, corporate partnerships director at Save the Children, added: "This generous Christmas donation is a great end to what has been a fantastic year of support from FirstGroup. We are incredibly proud our partnership has been running for five years and grateful FirstGroup is helping us to support some of the poorest children in the UK."