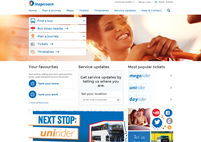 New website forms part of an £11m investment in digital technology
Stagecoach Bus has launched a new responsive revamped website which will let customers check live running times for their services and buy travel straight from their smartphone.
As part of a new online platform, the operator has launched the UK's first nationwide online bus planning service to help its two million daily customers access journey and ticketing information more easily for Stagecoach services across the country.
The new website is designed to make it as simple as possible for passengers to plan and book their Stagecoach bus travel across the UK. The site is also accessible from mobile devices, allowing customers to call up journey information and buy tickets while on the move.
The website is part of a three-year, £11m digital investment strategy which includes investment by Stagecoach in redeveloping its UK Bus online platform, delivering real-time information and improving payment options. In 2016, the transport group also expects to introduce a mobile app.
Developed by independent creative agency, Rufus Leonard, and located at the web address stagecoachbus.com, the site is fully mobile and has already undergone rigorous testing by customers.
Other key features of the new website include an online fare calculator, a tool to allow customers to search and find their nearest bus stop, placing options on an interactive map, and a tool to download personalised timetables.
Stagecoach UK Bus Managing Director, Robert Montgomery, said: "Our customers want seamless journeys – from planning their trip and buying tickets, to getting real-time travel information and catching the bus. That's what we are aiming to deliver and we believe this new revamped website will help make life easier for all of our passengers, no matter how often or how little they use the bus.
"We'll also continue to embrace further developments in technology to ensure we can deliver even better bus services for our customers in the future."
Lindsay Wall, Managing Director at Rufus Leonard, said: "This service really is a gamechanger.
"Customers across the UK will be able to plan their journeys and buy their tickets on any device. Gradually, they will also be able to physically track their bus, so no more waiting in the rain.
"The service also bears the hallmark of the Stagecoach brand – one of the Top 10 most admired businesses in the UK and favoured by consumers for their fantastic services."
Vix Technology UK&I managing director, Bryan Simms, said: "It's great to have helped Stagecoach bring this evolution in bus travel to their passengers.
"Utilising Vix smart ticketing and real time passenger information systems, Stagecoach Bus is able to deliver live travel information to both the new revamped website and the forthcoming mobile app."
Tim Porter, Trapeze Group UK Managing Director, said: "I am proud that Trapeze has been able to help Stagecoach Bus deliver this exciting new service.
"By using Trapeze systems to blend timetable information and bus stop information with real time travel alerts, the Stagecoach Bus website heralds a new dawn in availability of personalised travel information – one that will result in easier bus journeys for passengers up and down the country."