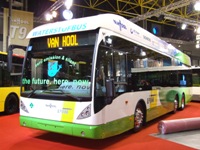 Van Hool hydrogen bus fleet to be used on First and Stagecoach routes
Scottish First Minister Lex Salmond has announced £3.3m of funding for a hydrogen bus fleet in Aberdeen.
The city will be home to Scotland's first-ever hydrogen buses, manufactured by Van Hool, which could be operating by early 2014. Sufficient funding was provided for 10 of the vehicles, which produce only water vapour as a waste product. They will operate on First and Stagecoach routes.
Both the Scottish Government and Scottish Enterprise have committed up to £1.65m to support the initiative, which has also received funding from the European Commission and the UK Technology Strategy Board.
Other partners in the project include the Aberdeen Renewable Energy Group, Ballard Power Systems, BOC, one of the largest providers of industrial, medical and special gases in the UK, Scotia Gas Networks and Van Hool.
As part of the project, the new environmentally-friendly buses could be refueled at Scotland's first large hydrogen refueling station. Scottish and Southern Energy Power Distribution (SSEPD) is to develop an integrated "whole hydrogen" system, which aims to harness wind energy to produce and store hydrogen. This would then be used as fuel for the bus fleet and also for hydrogen-powered cars, once they become available.
Mr Salmond said: "Aberdeen is already Europe's offshore energy capital and this exciting new project can help position it as a leading city for low carbon technology and green transport.
"With a strong group of project partners, this initiative will boost Scotland's profile as a key hydrogen technology hub and a world-leading investment location for pioneering low carbon energy and transport systems."
Aberdeen City Council Leader Barney Crockett said the funding would make a "vital contribution to Aberdeen City Council and its partners' work to introduce a fleet of hydrogen buses to the area".
He added: "I believe this will stimulate further innovative hydrogen technology projects and attract more high-level investment to this city.
Giles Fearnley, First UK Bus MD, said: "This is an exciting, ground-breaking project which we are delighted to be a part of, particularly in our home city, Aberdeen. Throughout the UK, First is committed to reducing its carbon footprint, particularly emissions from our buses. We already operate 68 hybrid vehicles, including 10 in Scotland, with a further 41 on order across the UK and have made tremendous advances in engineering which has reduced our fuel consumption. This project therefore is a natural fit and one we hope will be very successful. We're looking forward to operating the hydrogen buses."
Andrew Jarvis, MD, Stagecoach Bluebird, said: "Bus travel can deliver huge environmental advantages over taking the car. Powering vehicles from renewable sources such as hydrogen can make the bus an even greener and smarter option.
"We already source energy for one of our bus depots in Aberdeenshire using geothermal heat extracted from the ground, as well as harvesting rainwater to clean our buses. Locally-generated hydrogen fuel is an exciting prospect and will complement the range of measures we are taking across Stagecoach to grow our business sustainably and help our customers cut their carbon footprint."
SSEPD's Director of Distribution, Stuart Hogarth, said it was an "ambitious project" which could help keep the costs of energy down in the future.
He added: "We're pleased to be working with a group of partners who are experts in their field and to be helping introduce a new form of sustainable transport."