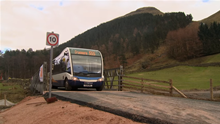 Stagecoach Cumbria and North Lancashire has launched a new shuttle service to improve connections between Grasmere and Keswick, which were impacted by a road collapse on the A591 following Storm Desmond.
The service will run hourly every day down the western shore of Thirlmere and replaces the current diversion via the M6 to Penrith. It operates from 0700-1900hrs.
Passengers on this service can benefit from reduced day tickets.
The shuttle bus will continue to run until the A591 fully reopens.
Stagecoach posted a YouTube video about the service, showing a test-run over a temporary bridge with an Optare Solo.
Stagecoach Stagecoach Cumbria and North Lancashire Operations Director, David Lee-Kong, said: "We've decided to bring in special discounted fares for this service, because we appreciate that there will be people coming to our bus service for the first time. It's £5 for a day ticket or £20 for a weekly ticket.
"Those tickets can be used on any Stagecoach Bus in Cumbria or North Lancashire."
INFO
The video can be seen at https://youtu.be/4Ns4v96SSqA