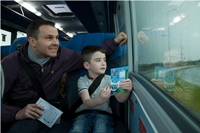 Stagecoach East Scotland has announced children's activity packs as a new feature for its Express City Connect coaches.
The operator has launched the activity packs for children travelling on Stagecoach Express routes, designed to keep them entertained during their journey.
The new activity packs will be available on all services within the Express City Connect network, operating across Fife, Perthshire, Dundee and Angus and travelling as far as Aberdeen, Edinburgh, Livingston and Glasgow.
Stagecoach drivers will hand out an activity pack to each child boarding the coach. The packs are designed to engage and educate children using a selection of games, puzzles and activities. Specially designed for 3-11 year old's, they include various activities related to travel and include safety messages such as fastening seatbelts while on board.
Sarah Elliott, Marketing Manager for Stagecoach East Scotland, said: "Our Express services are ideal for a day out with the family as it's a luxury and hassle free way to travel.
"These new activity packs will make it even more enjoyable for kids travelling with us, and with the concept designed to encourage development, yet focussed firmly on fun, they're sure to be a hit.
"We offer a great range of group tickets for families having a day out too – our group dayrider tickets offer unlimited travel for two adults and two kids, one adult and three kids or three adults and cover local town/city or wider travel zones across our network."
The Express City Connect network, operated by Stagecoach East Scotland, offers regular links across the region and serves a number of Park & Ride sites. The coaches used on the network offer free WiFi, reclining seats and air-conditioning.