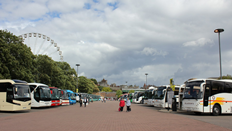 Cost of parking at town centre coach park to rise by up to 40%
The Royal Borough of Windsor is defending its move to increase the cost of coach parking in the town.
From March 14, the cost of an hour's parking will rise from £6 to £10; the rate for up to four hours will increase from £12 to £20; and stays of over fours hours will cost £30 instead of £20. Pre-payment offers savings – stays of up to four hours will costs £17.50 and up to 10 hours £25.
Defending the revised charges, Conservative Cllr Colin Rayner, Cabinet Member for Highways and Transport told CBW: "Most coaches which enter the facility don't actually pay anything as they can set down and pick-up free of charge. We have to generate income to keep the town looking its best – and we've also got to upgrade the lifts which take people to the railway station and castle in the next couple of years.
"When we looked at parking rates at other popular tourist destinations, including the Tower of London, Bath and Stratford-upon-Avon, and we found our charges compared favourably.
"We're also one of the few town to boast a conveniently-located coach park – Windsor Castle is just 300 yards away. It's next door to Alexander Gardens too."
Calling for the coach industry's support, Cllr Rayner said: "The hardest thing for us will be to keep coach parking in the centre of town. We don't make vast sums out of the coach park. My fear is that if coaches do not use it, we'll lose it. I would ask that if coach operators and drivers have any concerns or suggestions for improvements, that they contact me. This is my second term in the role and I've yet to hear from anyone in the industry."
However, Cllr Rayner was keen to stress: "We want visitors to travel here by coach and local bus as we're aware of the positive environmental impact. I have to battle to keep the coach park exclusively for the use of coaches – some colleagues would like the two-acre site to accommodate cars too."
He also appealed for all coach drivers to follow the signposted route to the coach park and not to use residential streets as 'rat runs' as it leads to traffic congestion.