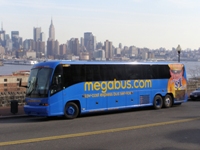 Stagecoach Group has published an interim management statement.
The group said its overall profitability has remained satisfactory, and there has been no significant change to its expected adjusted earnings per share for the year ending April 30 2014.
Like-for-like revenue growth for the financial year to date in each of the Group's main businesses, for the 12 weeks ending July 21, was:
UK Bus (regional operations) up 4.5%
UK Bus (London) – down 0.6%
UK Rail – up 6.5%
North America (including Megabus.com) – up 5.7%
Virgin Rail Group – up 5.8%
Stagecoach's regional bus operations in Great Britain have seen passenger volumes increase year-on-year, partly attributable to better weather. Strongest growth continues to be achieved in its commercial revenue, with concessionary, tendered and home-to-school revenue growing at a lower rate.
In London, the small reduction in revenue during the period is in line with expectations, and Stagecoach expects this to reverse in the second half of the financial year as nine new contracts won in the last financial year begin to kick in.
The financial performance of Stagecoach's rail businesses is in line with expectations. Revenue growth rates have fallen since July 21, 2013, partly reflecting the incremental revenue during the period of the London 2012 Olympic and Paralympic Games.
Megabus.com in North America is the fastest-growing part of the Group, increasing revenue by 21.8% in the three months ended July 31, 2013. This reflects further growth in existing services, as well as contributions from the Texas and California networks launched during 2012/13.
Stagecoach Group said it maintains a strong financial position with investment grade credit ratings and appropriate headroom under its debt facilities.
Consolidated net debt has remained broadly consistent with April 30, 2013 reflecting continued strong cash generation, offset by the reversal of favourable working capital timing differences in the previous financial year.