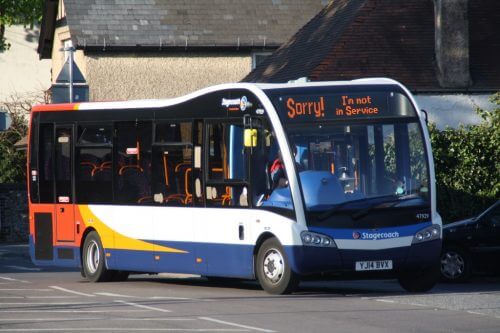 Document aims to inform developers on how to ensure buses can properly serve new residential areas, examining highway design, bus stops and parking provision
Stagecoach has launched a blueprint to help ensure bus services can effectively serve new housing developments.
The company has claimed that failure to build in public transport to new developments would result in a greater cost to the economy in lost productivity, poorer air quality, longer working days because of extra commuting time and a less safe living environment, with more cars on the road.
Stagecoach has published a guide to assist and support local authorities and other stakeholders through the planning, detailed design and delivery process around new housing developments in UK towns and cities.
The operator believes that effective partnership working at an early stage in the planning process of a housing development can help deliver more efficient use of road-space and increase bus use, thereby helping to reduce congestion and improve air quality.
The document, entitled 'Bus Services & New Residential Developments', is being sent out to a wide database of local councils and development industry stakeholders across England, Scotland and Wales. It includes information and guidance covering a number of areas, including:
• Highways design and specification – including engineering requirements for bus routes, traffic calming measures, shared space areas, and the use of bus gates;
• Bus stops and supporting infrastructure – including walking distances to bus stops and bus stop locations and positioning; and
• Parking provision on bus routes – including good practice recommendations as well as things to avoid.
Stagecoach's Head of Strategic Development and the Built Environment (South), and author of the blueprint, Nick Small, said: "We are working increasingly closely with local authorities and other stakeholders across all areas of bus service delivery to help improve the effectiveness of local bus services and benefit local people. This document builds on that work and offers further support and guidance from a bus operator's perspective.
"As local authorities in most parts of the country are being expected to plan for a major boost to the supply of new homes, this growth risks further burdening already-congested local roads. High-quality bus services therefore need to play an even more central role in local land-use and transport plans, to ensure people can reach where they want to go, both within and between our towns and cities. It's vital that bus companies are involved early in the planning process to discuss the operational opportunities and challenges for bus routes in new residential developments.
"Where that happens, this type of partnership working can help ensure the delivery of effective bus routes that work for local people and therefore help increase bus use. This in turn delivers significant environmental benefits by reducing the number of cars on the road and helping to improve air quality."