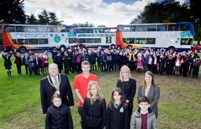 Stagecoach East Scotland works in partnership with Dundee City Council and JMP to teach 'green'
Stagecoach Strathtay, which is part of the Stagecoach East Scotland business, has teamed up with Dundee Travel Active to let pupils experience the benefits of active and sustainable travel through a packed programme of activity.
Pupils from three primary schools learnt why it's good to walk, cycle and use the bus, helping them and their families to make more informed travel decisions as well as learning more about how to travel independently on buses.
Dundee Travel Active is the city's programme to improve health through travel choices. The project aims to help families save money on travel costs, encourage young people to become more independent travellers and improve the environment in the city.
The schools programme was delivered by JMP Consultants, on behalf of Dundee City Council. JMP's Caley McDowall said: "This is the second year we've worked with these three schools to promote less polluting travel options for pupils and their families and we're pleased with the fantastic response received once again to our programme. We particularly welcome the support from Stagecoach Strathtay to promote the benefits of public transport to the next generation of Dundee's bus users."
Prior to the sessions, pupils from the upper classes were invited to take part in an artwork competition, whereby a winning design from each school would be displayed on the Stagecoach Strathtay's route 57 vehicles.
The artwork is displayed on three of the six vehicles operating on the route between Perth and Dundee, via Blairgowrie.
Sarah Longair, Operations Director for Stagecoach East Scotland, said: "It was great to be involved in the school sessions and to extend the project by offering the artwork competition. The designs we received were fantastic, it was very difficult to pick our winners, but we felt each of the winning designs communicated a message about public transport which was fitting with the workshops just completed.
"We hope Hannah, Hasanein, Kelly-Ann and Vicky are proud of their artwork and the whole of each school will look out for them on the roads."