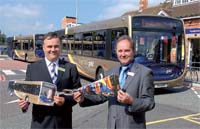 Stagecoach South has introduced more buses for commuters on its existing Goldline route which provides rail links and rebranded it as 'Stagecoach Gold' name. The route provides links to rail services from Aldershot, Farnborough, Frimley, Camberley and Old Dean.
Two brand new Cummins powered ADL E300s have joined the fleet and the timetable has been enhanced with more peak journeys, the frequency having increased from every 10 to every 7-8 minutes. As a result, connections with fast rail services to London, operated by South West Trains have also improved.
Mark Turner, commercial director at Stagecoach South and Dave Wallington, head of commercial at South West Trains, launched the new timetable at the Farnborough Main Station interchange. Completed a year ago, more than 3,000 commuters now use the bus interchange each week and the extra buses will also help to improve punctuality along the entire route.
"The additional £30,000 investment into the Stagecoach Gold service will provide a greater choice of buses for early and late commuters," said Mark. "We hope more people will consider changing from their car dependency to a more eco-friendly travel package." Dave said the improvements will be appreciated by customers and the 'green transport' option will also reduce local road congestion.