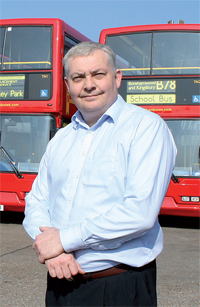 Dean Sullivan, managing director of Sullivan Buses has defended the cost of replacement bus services for the London underground, which have been reported to cost £46.7m over the last five years.
The Jubilee line has been the most expensive, with £13m spent on buses during engineering works and signal problems. The ongoing computerised signal problems, which are also estimated to have cost £16m in lost fares revenue over the same period, are of particular concern as it will be the main line serving the Olympic stadium at Stratford. Replacement buses cost £10m on the District line, £6.7m on the Victoria line and £5.3m on the Metropolitan line. Caroline Pidgeon, leader of the Lib-Dem London Assembly group and the transport committee, uncovered the figures following a freedom of information act. "Too many people have faced disruption and utter misery due to the delays stretching over a number of years in completing so much upgrade work on the Tube, especially to the Jubilee line," she said.
"It now adds insult to injury to know that on top of all this disruption for travellers the total bill for replacement bus services has been so high."
A transport for London spokesman said: "We plan our works carefully. Customers are advised to use alternative tube stations and local bus services, but clearly we need to provide replacement bus services. These services are invaluable to many Londoners."
Dean told CBW: "All London Underground railway replacement bus services are procured through a rigorous tendering process. This ensures Londoners get the best possible value for the services delivered.
"Reliance on existing services (where capacity permits) is obviously the cheapest method of transporting customers during times of disruption. However this may not always be possible due to the constraints on the system, and in those cases replacement buses need to be provided.
"So for many Londoners the provision of a railway replacement service is their only direct means of reaching their destination during times of disruption. To suspend or curtail these services would cause untold misery for many thousandsof passengers."
Sullivan concluded: "I feel we should recognise the fact that London Underground is investing in the future of the capital's rail network and aiming to deliver the best possible service to customers affected by this essential engineering work."