Stagecoach South West has rolled out a package of changes to its network, including the introduction of new services and improvements to existing routes.
The changes took effect on 26 May, with four new services commencing operation. A review of all of the operator's services – including analysis of route data – was recently undertaken, which prompted the changes.
Continued growth in certain areas has also been taken into consideration.
The new Hop 222 open-top service will link Teignmouth, Dawlish and Dawlish Warren, while the new L bus service will travel every 15 minutes from Pinhoe to Exeter city centre, extending every 30 mins through to St Thomas, Dunsford Hill and Crossmead.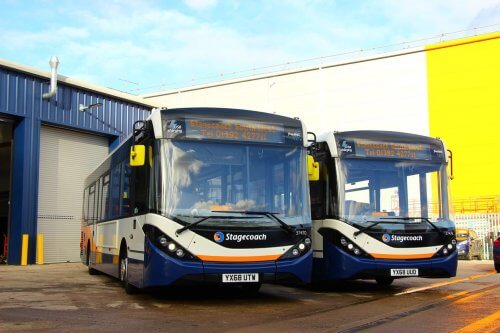 The other two new services will provide weekend evening overnight travel, until the early hours of the morning.
The N57 service, linking Exeter, Topsham, Exmouth and Brixington, will run every 30 minutes at weekends until 0400hrs.
The N21 service, from Barnstaple to Bideford, is being reintroduced and extended by popular demand, to serve Ilfracombe.
Bob Dennison, Managing Director of Stagecoach South West, commented: "We feel it is important to consistently review how our services are performing, in order to ensure we are meeting customers' needs and responding to demand.
"For example, if we discover that a route is becoming extremely busy, with passenger numbers expanding, then we look at increasing the frequency.
"These are the first major changes we have made to our Devon network in some time and, along with a wide range of ticket options, we hope they will provide our customers with even more reasons to travel with Stagecoach South West."
You can read more Bus News here: cbwmagazine.com/category/news/buses