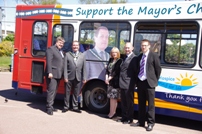 Stagecoach East Midlands has decorated a bus in support of the charity campaign of 2013 Skegness Mayor Jim Carpenter, who happens to be a long-serving Stagecoach employee.
Representatives from St Barnabas Hospice and Boston Women's Aid were both on hand to see their logos unveiled on East Lancs Sprytebodied Dennis Dart 'S512BTL'. Members of Skegness Town Council and Stagecoach East Midlands staff also witnessed the special event.
Jim said: "It was my ambition to raise the profile of Boston Women's Aid and the St Barnabas Hospice at Home project during my year as mayor. I would like to thank Stagecoach for making this possible. They have fully supported me and even made a donation of £500."
Mark Mageean Operations Manager for Stagecoach in Skegness said: "Jim has worked for the company for many years and we wanted to do something practical to support his year as Mayor. We hope that the bus which will be a common sight on the streets of Skegness will encourage people to give to both worthwhile causes."
The bus will spend the next year on services in Skegness. It displays the charities' websites to allow people to give money easily.