Stagecoach confirms UK Bus management appointments
News stories are free to read.
Click here
for full access to all the features, articles and archive from only £8.99.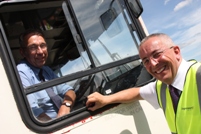 Stagecoach has confirmed the appointment of two Managing Directors at its UK Bus division.
Philip Norwell, currently Commercial Director at Stagecoach East, will take on the role of Managing Director, Stagecoach South East from September 1 following the announcement that current South East Managing Director Paul Southgate is to retire on October 1 2013. Philip has been working alongside Paul in the role of Managing Director (Designate) since June 1.
Michael Watson, currently Operations Director, Stagecoach North East, has been appointed Managing Director, Stagecoach South West with effect from July 1. As previously announced, current South West Managing Director Michelle Hargreaves will take up the post of Managing Director, Stagecoach East Midlands on July 1.
Stagecoach UK Bus MD Robert Montgomery said: "I am delighted to welcome Philip and Michael into our team of managing directors and would like to congratulate them on their appointments.
"Both have been part of the bus industry for a number of years and their experience will play an important part in their new roles. I look forward to working with them both to continue delivering high-quality, affordable and reliable bus services in the South East and South West areas and our clear aim will be to attract even more people out of their cars and on to our greener, smarter bus services."