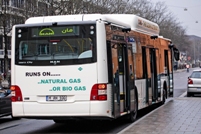 Stagecoach has launched a sixweek trial in Liverpool of a new Compressed Natural Gas (CNG)-powered MAN bus.
The 12-metre EcoCity can also run on biomethane, which is already used as a fuel by the group as part of a project in Lincoln. The low-floor bus, which is right-hand drive for the UK market, is expected to meet the new Euro 6 engine emissions standards, which will come into force in January 1, 2014.
While CNG fuelling infrastructure in the UK is in its infancy, there is no need for large stocks of fuel to be managed and stored in a bus depot, because gas is drawn from the national grid as required.
Commenting on the trial, Sam Greer, Stagecoach UK Bus regional director, said: "We're looking forward to testing the performance of the gas bus in Liverpool over the next six weeks. This will allow us to compare its fuel consumption and operating costs against other types of vehicles in our fleet. We continue to look at a variety of technologies to help reduce our carbon footprint."
MAN has already supplied more than 7,000 CNG buses which now operate throughout the world. Fleets of MAN buses are already running on biomethane in both Sweden and the Netherlands.
Tony Griffiths, of MAN Truck and Bus UK, said: "We're thrilled to have a major operator such as Stagecoach running these very important initial UK trials. MAN gas-engine technology has been well-proven throughout the rest of the world, and we are confident it can contribute a significant reduction in costs and emissions – both central to the future of passenger transport and the UK environment."