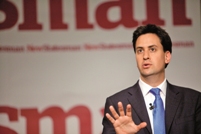 Ed Miliband has denied that his Labour conference speech – in which he attacked "predatory" firms and a "fast-buck" culture – was "anti-business".
He told the BBC his aim was to improve behaviour in the commercial sector in an effort to improve the UK's economy. Large bonuses for bosses who achieve little should be phased out, he added.
Ex-CBI boss Lord Digby Jones said the speech was a "kick in the teeth" for firms.
In his speech, Miliband said the UK was crying out for a new kind of society in which responsible "grafters" were properly rewarded. He also attacked "asset-stripping" companies for damaging attempts to bring about economic recovery and he vowed to fight for "a new bargain in our economy, so reward is linked with effort".
Andrew Cave, of the Federation of Small Business, said a call to force firms who wanted to bid for public contracts to offer apprenticeships "risks clobbering small business and cutting off a lifeline for them".
CBI director-general John Cridland said the Labour leader was right to encourage "long-termism" but added "he must be careful not to characterise some businesses as asset strippers".
In a round of interviews last week, Mr Miliband said Labour would not lurch to the left and would be "firmly in the middle ground" – but argued that the middle ground was changing.
"This isn't anti-business; it's antibusiness as usual. Business as usual is not going to get us what we need as an economy," Miliband added.
He said a "new reckoning" was needed if Labour was to achieve its goals, adding that government spending was "not going to be the way we achieve social justice in the next decade."