The two services will move to Stagecoach West's Patchway depot, and will operate to the current timetable
First West of England announced to its staff on Thursday 18 July that two of its routes will be transferring to Stagecoach West.
The first service is the SevernExpress, which links Bristol with Cribbs Causeway, Chepstow and Newport in South Wales.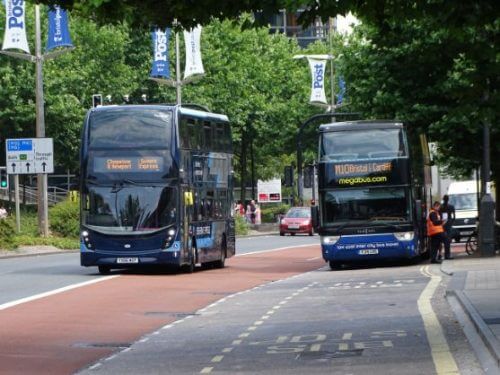 This service operates seven days a week to an hourly frequency Monday to Saturday, with four departures on a Sunday. Vehicles used are route branded Alexander Dennis Enivro400 MMCs 33488-90, with the service currently being operated by drivers from Marlborough Street bus station.
The service was relaunched with new vehicles in 2016; in December 2018 the Severn Bridge tolls were removed meaning that commuters were then able to travel by car without having to pay a toll. Some commuters had previously avoided the toll by using the SevernExpress.
The other service involved will take Stagecoach West deeper into the South West of England to Weston-super-Mare.
The X5 service links Weston-super Mare, where it is currently operated from, to Cribbs Causeway via Portishead every hour Monday to Saturday with five departures on a Sunday.
Much of this route operates along the M5 motorway, and can be subject to delays if the traffic is heavy.
This route is part of First West of England's Excel network, providing inter-urban links between North Somerset and Bristol.
This service is operated by Alexander Dennis Enviro400 and Wrightbus StreetLites that have recently been painted into the updated orange Excel livery.
The two services will move to Stagecoach West's Patchway depot, and will operate to the current timetable.
Rupert Cox, Managing Director of Stagecoach West told CBW: "I can confirm that we are taking on the SevernExpress and X5 from First. We'll be doing some PR around this closer to the start date for us."
Speaking about the changes James Freeman, Managing Director of First West of England said:
"We have worked hard on both of these routes in recent times.
"Our Weston-super-Mare staff have tried improve reliability of the X5 over recent years but have reached the conclusion that this route would be better run from the opposite end."We have invested in the Severn Express with brand new buses and other initiatives, but the rapidly changing situation including last year's removal of Severn Bridge Tolls has meant it is challenging for us to run.
"We have therefore made the decision to concentrate on our core network and transfer this route to Stagecoach, who I hope will be able be able to keep the service running so that our customers can still rely on the bus."