Nottingham City Transport and Gedling Borough Council leaders have launched a batch of nine new biogas buses from an order of 67 this year, ahead of their introduction on Lime 58 to Arnold via Sherwood.
The new buses will have CO2 emissions 84% lower than the diesel buses that came before them and will also lower NOX and particulate matter emissions too.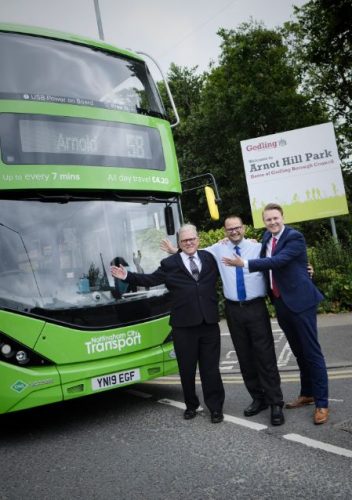 The buses are fuelled by food and farm waste produced through anaerobic digestion, and it is hoped they will help to improve air quality from the A60 Mansfield Road through Gedling Borough.
Anthony Carver-Smith, NCT's Marketing Manager, said: "NCT is investing £42m over three years to reduce the emissions from our already clean fleet even further. Alongside the largest fleet of biogas double deck buses in the world, NCT are also fitting an exhaust treatment system to our remaining diesel fleet, which sees the overall fleet emissions from NCT reduce by 90% by 2020."
Gedling Borough Council Leader, Cllr John Clarke said: "It's great to see these new buses hitting the roads in Gedling Borough.
"Part of our Air Quality Action plan is to encourage greener public transport fleets and Nottingham City Transport are leading the way with their biogas buses, not only providing more modern transport services for the public, but also a service that's better for the environment."
The buses come as a part of an investment supported by government grants, and has avoided 8,000 tonnes of CO2 and 70 tonnes of NOx emission being emitted by the NCT fleet.