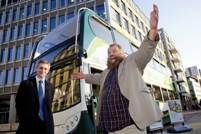 Stagecoach Yorkshire launched a fleet of 21 BAE Systems-powered ADL Enviro 400 Hybrids in Sheffield last week.
The first of their kind in South Yorkshire, they have replaced Volvo B6s on route 120, which links Lodge Moor with Halfway, via the city centre.
The vehicles were officially launched on Thursday (September 29) and are part of a £4m investment from Stagecoach with £2m funding from the government's Green Bus Fund.
Paul Lynch, Stagecoach Yorkshire managing director, said the buses would provide customers with the same service and hoped they would entice more people on to public transport. He said: "We are proud to be introducing these new buses, which will provide customers with the same safe and reliable service but also cut carbon emissions and show our commitment to attracting non-bus users to public transport.
"Our passengers will therefore enjoy the dual benefits of a greener bus service and smoother ride."